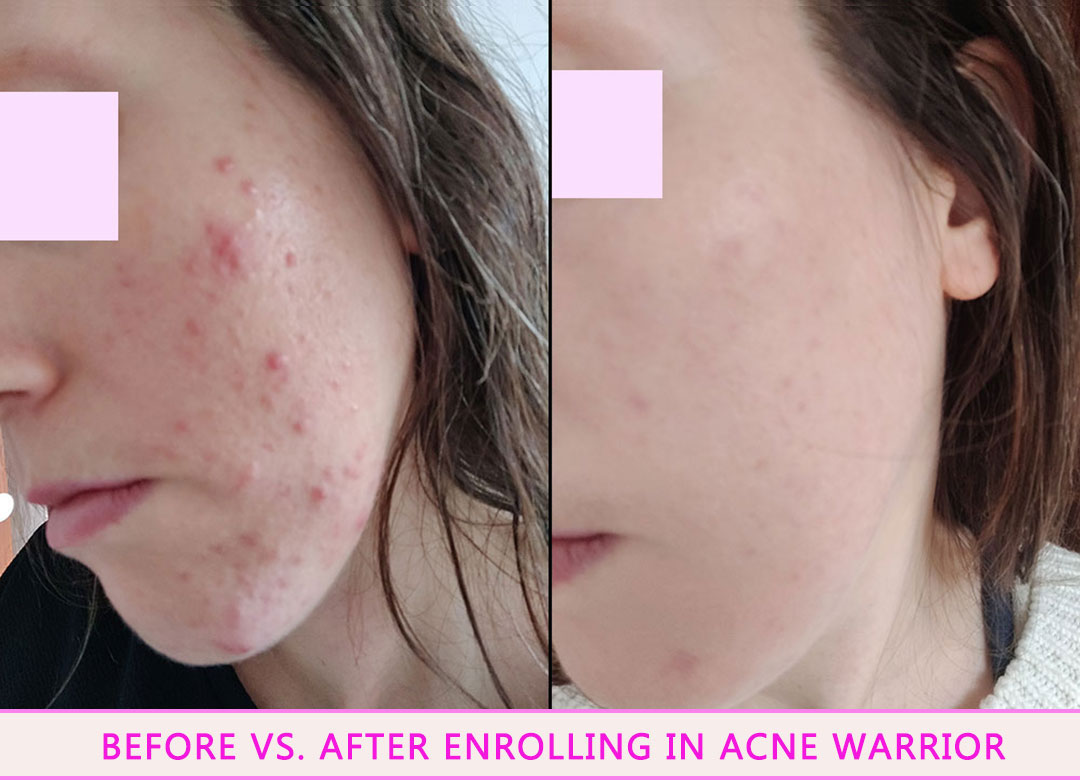 Real People, Real Results 🥳


"I have suffered from acne for the last 22 years and have felt helpless as nothing has ever worked long term.
The course is easy to follow, super informative and saved me. After 3 months I witnessed dramatic improvements that continue to improve and last. 
Before the Acne Warrier course I tried medication, skin treatments, and endless different skincare routines. For the first time I am in control of my acne and I can't thank Cheryl enough for sharing her knowledge backed by scientific research."
- Kelly Rogers, Leeds, UK
Enroll Today, Start Healing Your Acne Instantly 😀
✔️ Entire Acne Warrior Course - decades worth of hidden acne research in your hands.
✔️ Using my 6 module course you'll design a personal, skin clearing treatment plan involving changes to your skincare, diet, supplements and lifestyle.
✔️ Accountability with me by your side - I'm talking you through your at-home acne treatment by email [if you opt-in] helping you get clear skin by making daily manageable changes.
✔️️ Instant lifetime access to the entire Acne Warrior course and all future updates.
✔️ My full 30-day money-back guarantee - I'm that confident you're going to love Acne Warrior.
Acne Warrior is 100% risk-free because you have my full 30-day money-back guarantee. I'm that confident you're going to love Acne Warrior and finally be feeling back in control of your acne. Imagine what it's going to feel like to be waking up to no new breakouts.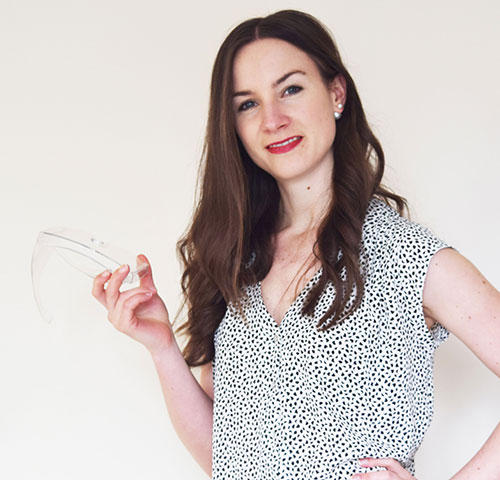 I'm Cheryl Woodman, an award-winning scientist.

I've healed from adult acne, now's your turn.
Psst, my expertise have been featured by the likes of...

Click play to find out more;
Why Acne Warrior's Different to Every Acne Treatment You've Tried Till Today


1️⃣ Science Supported Acne Cure Taught By An Acne Scientist

Your struggling to clear your skin (like I did) because most acne treatments (e.g. anti-acne skincare, 'the pill', antibiotics) treat symptoms not acne triggers . We're healing science proven triggers of acne so you get clear and stay clear.
2️⃣ Heal Your Acne Naturally

Acne's your body screaming Help! Something's wrong! Inside Acne Warrior you'll identify internal cause(s) of your acne plus heal them naturally so you feel feel in control of your skin again.
3️⃣ Non-Intimidating, Affordable Acne Treatment from the Comfort of Home

No need for pricey > £1000 (and scary!) dermatologist visits, no need to wait years on a dermetologist waitlist. Acne Warrior's an affordable at home acne treatment you're getting instant access to today 😀.
Acne Warrior: "the best adult acne treatment I've tried" 🥳

98% of women see clearer skin after 6 weeks 😀.
Here are some of their amazing real-life acne transformations.
This could be your acne story soon!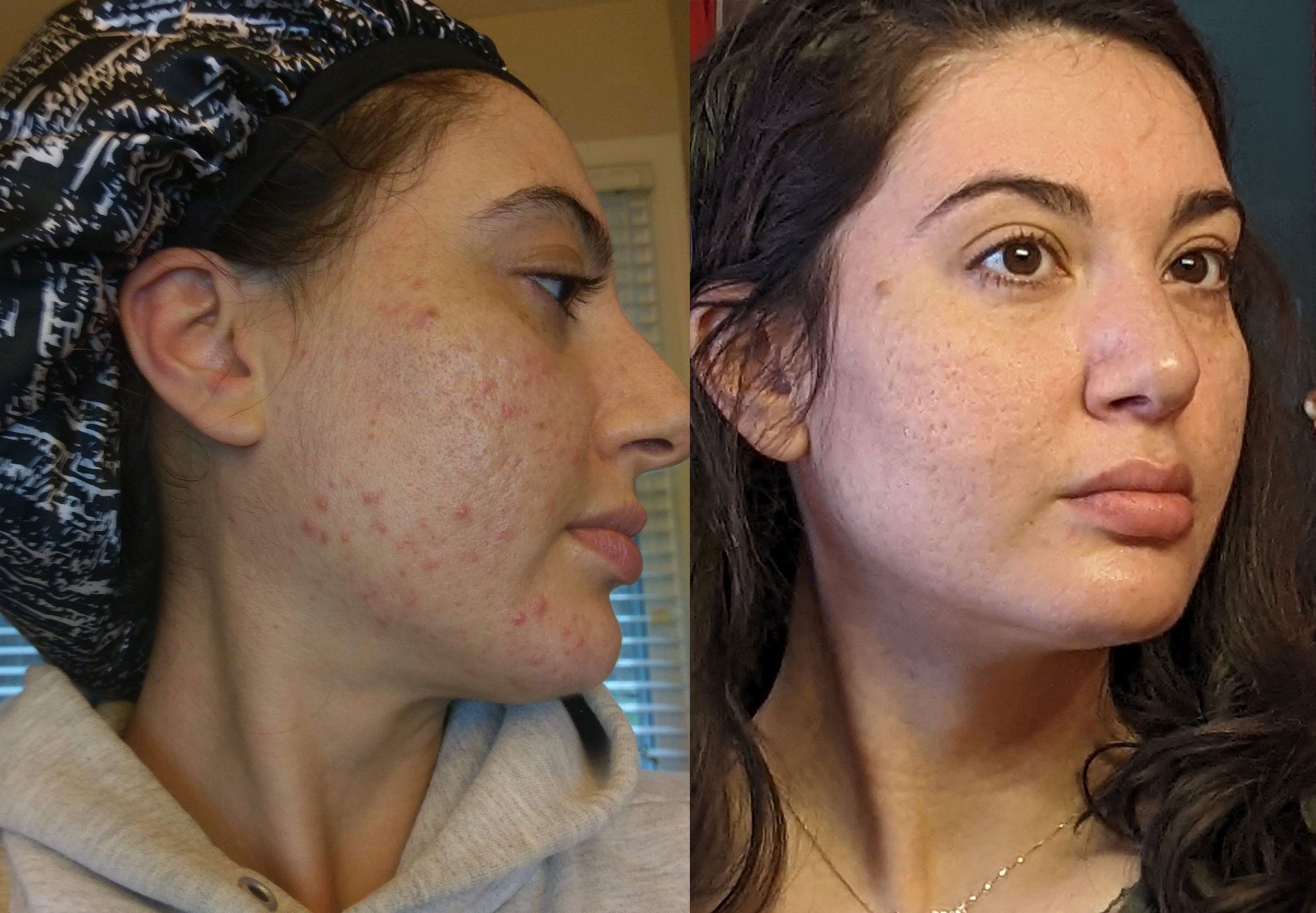 "I cured my acne prone skin thanks to YOU... You seriously changed my life and are amazing 🤩.

(This before picture is actually better than how my skin used to be... but it was all I could find, I wasn't really a fan of taking pictures without makeup).
The changes in my skin were really quick once I (we) unlocked the puzzle pieces... before, my entire cheeks would be covered in acne. I'm just so grateful to have clear skin!
You are so underrated, Cheryl. The information you are sharing is the real truth about acne, and it's not out there anywhere else."
- Nicole R, Georgia, USA



Imagine What It's Going to Feel Like To...
Psst; These are real life results.
👉 Have minimal (or no!) premenstrual spots
👉 Feel confident enough to leave home in just low coverage makeup
👉 Take down red, angry and painful breakouts in weeks
👉 Heal the heartbreaking cycle of cystic chin spots which finally go only to come back again in days
👉 Feel confident and in control of your skin - like YOU again
👉 Get hydrated, healthy, clear balanced skin and be able to shout from the rooftops - I can't believe it, my skin's finally clear!

Remember; If you keep doing what you're doing, your your acne's not going to clear. Enrol today and I'll save you precious tears, time, worry and money on skincare & medications which don't work and are causing your acne to spread.
❔ Frequently Asked Questions


▶️ When does the course start and finish?


Acne Warrior starts now and never ends. It's a completely self-paced online course - you decide when you start and when you finish.


▶️ How long do I have access to the course for?
How does lifetime access sound? After enrolling, you have unlimited access to Acne Warrior across all devices you own.
▶️ What If I'm unhappy with the course?
I would never want you to be unhappy. If you're unsatisfied with your purchase, contact me in the first 30 days and I'll give you a full refund.

▶️ I have hormonal acne, can Acne Warrior help me?
Heck yes. Inside I'm showing you how to heal hormonal causes of adult acne naturally.

▶️ Will Acne Warrior help me get rid of acne overnight?


No - Acne Warrior will not help you get rid of acne overnight. It's not scientifically possible. You need to change your skin biology to get rid of acne.
What I can tell you is; Over the 7 years I've been an acne specialist - I've seen the changes in this course take down acne severity from a 9/10 to a 0/10 in just 4 months. I'm excited to help you do the same.

▶️ How does your 30 day money back garantee work?
I'm so confident you're going to love Acne Warrior and be blown away by what you find. If you don't agree all you need to do is pop me an email ([email protected]) and I'll refund you in full.