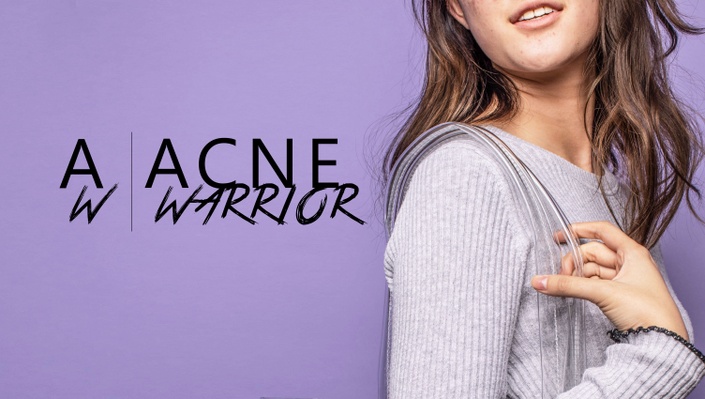 Acne Warrior
Finally start healing your skin from acne, spots & pimples in 42 days (or less if you're super keen).
Watch Promo
Enroll Now
Is your skin being plagued by acne, spots or pimples that are making you feel ugly, embarrassed, down and at your wit's end?
Are you feeling like anti-acne skincare works for a few months then STOPS working completely and sometimes is even making your acne worse?

After so many attempts at getting your skin to clear up - you're convinced NOTHING is EVER going to work?

Do you hate the fact you have to wear makeup every day because of how embarrassed acne is making you feel?
Is your acne growing out of control and even starting to spread?
Feel like your skin undermines you and is constantly sucking away your confidence?
You were told you'd grow out of it - but you never have.
Is acne taking over your life?
If you're right now nodding yes, yes, yes... I'm here to help!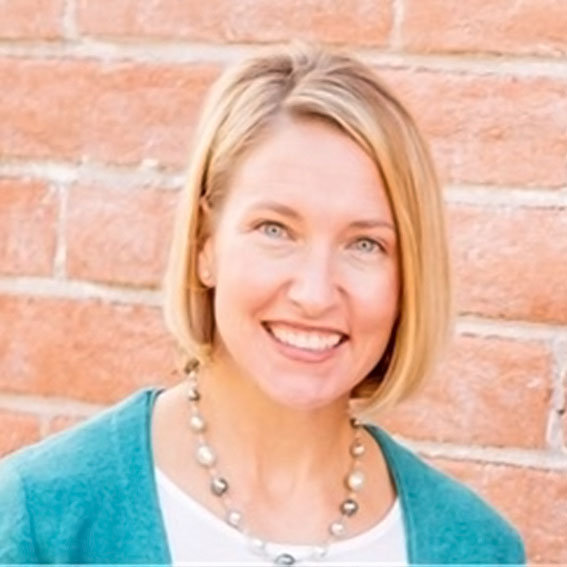 "I am in about week 3 of Acne Warrior and it's amazing!!! My skin is fantastic. It is glowing and clearing up and it feels so amazing. I am beyond grateful to you as for what you do... I don't have to wear makeup at this stage and I stopped taking the Rx prescribed to me by my dermatologist. I am beyond excited!!"
Kelly Garry, California, USA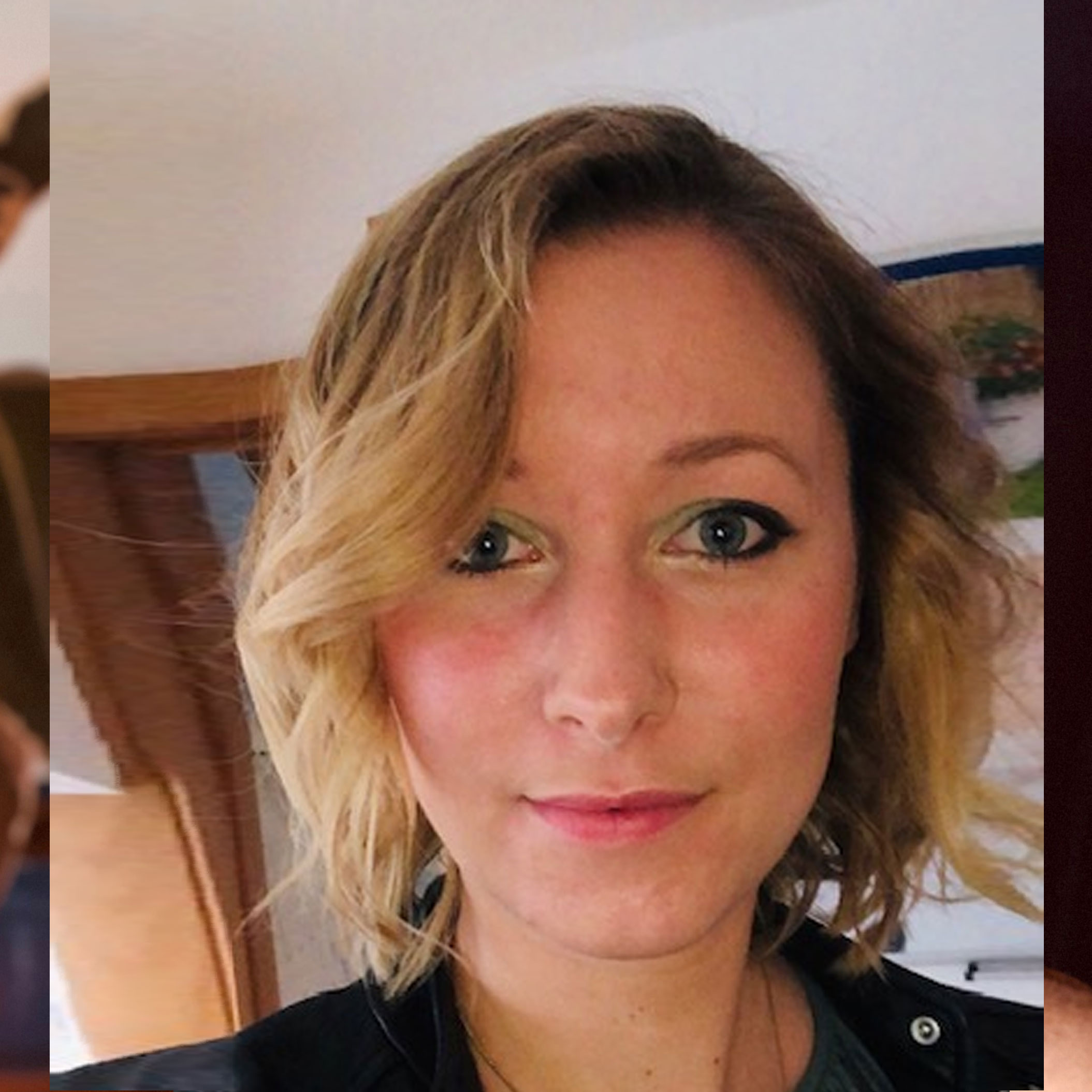 "I've seen a massive difference since starting the course, I no longer get those nasty cystic spots and the rosacea on my cheeks has calmed down significantly. I also don't have combination skin anymore, no more horrible dry patches or oily areas either. I'd been on the pill for about 14 years and came off it… which is when the acne started and my skin went crazy! I've got through needing to rely on foundation as my skin looks great just with the sun cream on now."
- Margi Clarke, Jersey, Channel Islands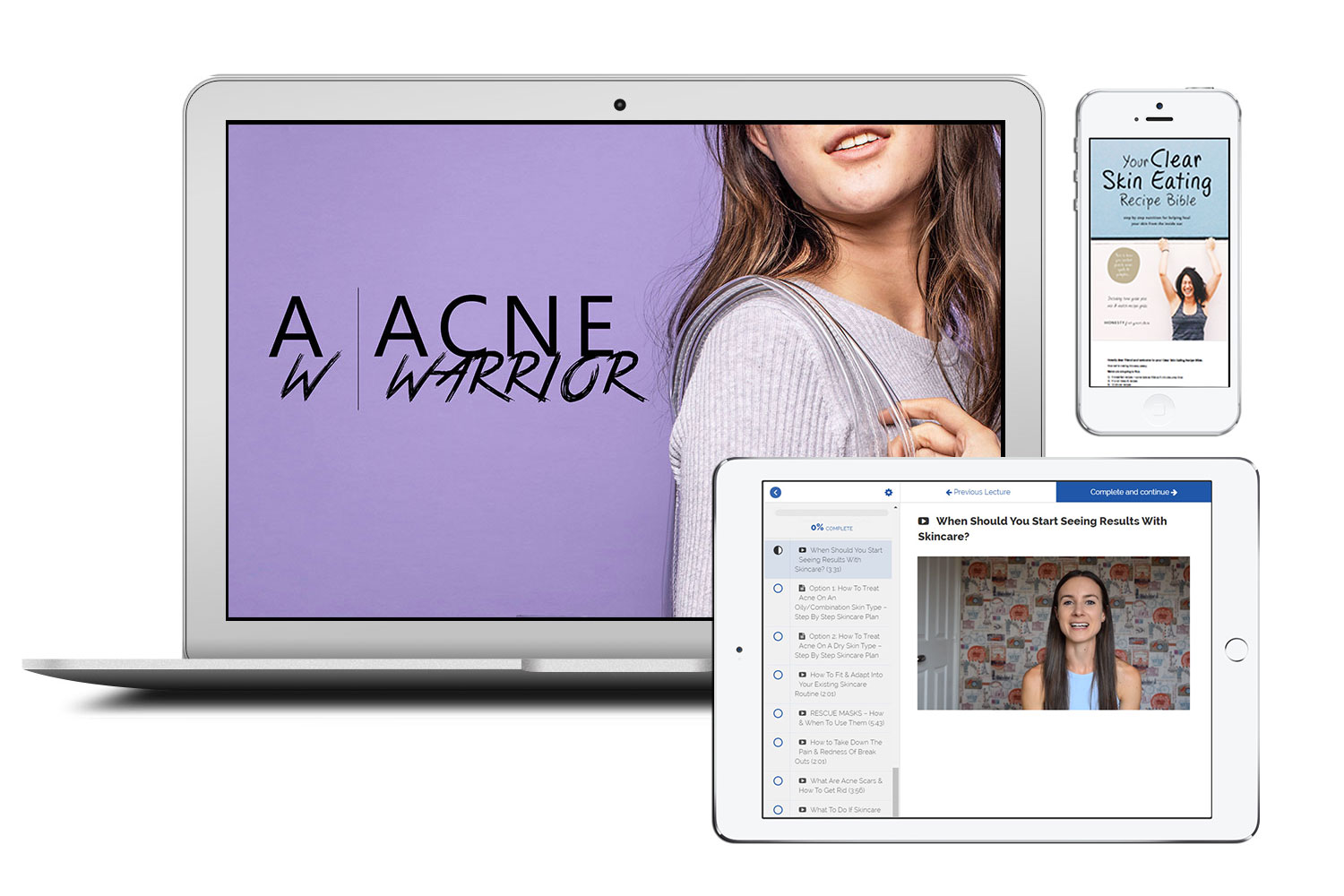 Why Acne Warrior Is Different to Everything You've Tried Till Today.

1. Science Supported Acne Help.
How crazy is this - over 90% of people living a western lifestyle will experience acne at some point in their life1. Yet there is a sink hole sized lack of credible, accessible, science supported acne help. How do you start trying to get rid of acne? How can you take back control of your skin?
It's incredibly hard and incredibly expensive to get acne help. Acne Warrior changes this. No need for a course of medical grade salicylic acid face peels (>£595) no need for multiple and pricey dermatologist visits (>£1000).
1. Arch Dermatol. 2002;138(12):1584-1590

2. Inside-Out & Outside In.
Spoiler alert. You will not get rid of your acne with only skincare. Yet most anti-acne advice is solely skincare focused. This covers up the underlying cause of why your acne's happening plus what your skin's trying to tell you. You will only finally start healing your skin from acne when you use science proven changes to your inside-out AND outside-in health. Acne warrior is teaching you how to do both.
3. Help NOW.
If you live in the UK you could spend up to a year waiting for an NHS dermatologist appointment. And in the meantime there's high chances you're doing lots of things which are making your acne worse. It's going to make your acne harder to get rid of. Acne Warrior is instant access plus it's self-paced meaning enrol today and you instantly have access to multiple, science-supported anti-acne changes. You can start acting on these today. There's nothing holding you back.
4. Works With Your Skin.
Lots of anti-acne skincare can be wildly harsh to your skin, leaving it red, pink, raw, dry, flaky, cracked, hot and insanely sensitive. In the long-term this can make your acne worse plus it's leaving you battling extra skin concerns. Acne Warrior uses only science proven anti-acne strategies which work with your skin's biology. And can therefore help your skin to heal in a healthy way.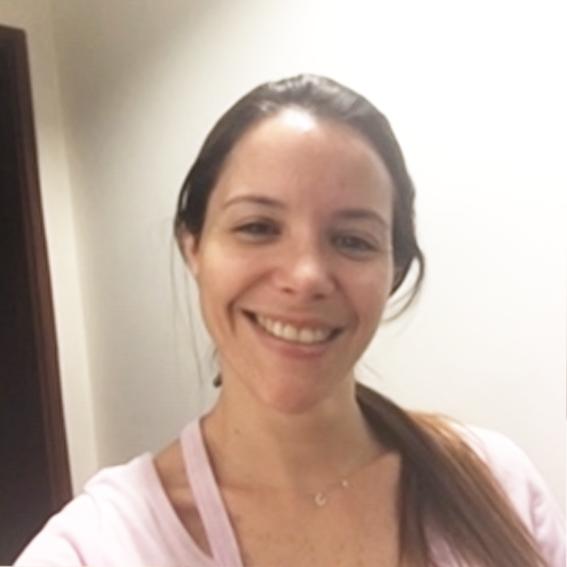 "To be honest, I started the course without much expectations, because I have had acne since I was 12 (now I am almost 40). I don't have cystic acne now but I have a lot of comedones all over my face! And never had any luck with dermatologists :(. You came to me so unexpectedly!!

I started the course thinking that if it didn't work for me at least I would learn a lot about how my skin works... so it would definitely be a win win situation... And guess what? I am very happy I did because I started making some of the changes you suggested and I have seen huge improvement in just 1 month since I started changing my diet and my skincare routine.

I still have a long way to go, since I still have to incorporate some of the skincare products and take some things out of my diet that I have been struggling to do. I believe when I am finished with all the changes, things will only go better for me! So bottom line.... I am sooo happy with all I have learned and the positive changes in my skin... that I am going to enrol in Acne Warrior Bonus!!!! (I need to start taking care of my new wrinkles :)) So if you ask me it's totally worth it!!! Besides, having you with me is the best!!! You are always there to help me with my questions and giving me so much encouragement!!! So thank you very much for being there!!! "
- Carmen Rojas
Start Doing Right
By Your Skin
From TODAY.
Your Instructor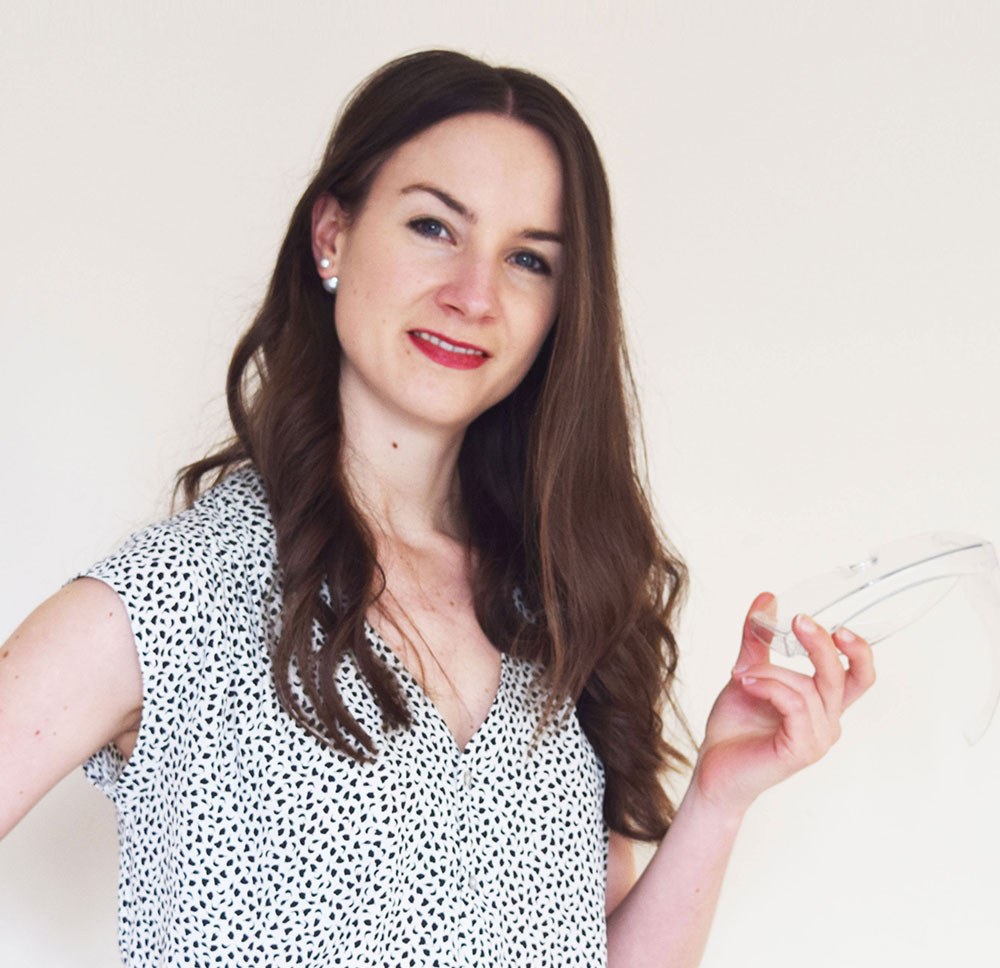 Hey there my friend, I'm Cheryl, a scientist, skincare expert, award winning skincare formulator and former acne warrior. My work has been featured in glossy press, The Huffington Post, Yahoo! Style, Which? travel, on BBC radio and more. And since 2015 I've made it my mission to help you get healthy, happy skin you feel comfortable and confident in.
My half English blood blushes as I write this to you, however I want you to know I'm the real deal. The help you're about to find here is scientifically supported and based on fact meaning it has hyper potential to help you get clear, smooth skin without scarring.
Course Curriculum
2) Major Causes Of Acne; Quickly CHECK You're Not Doing These
Available in days
days after you enroll
In Their Own Words.
What Others Are Saying;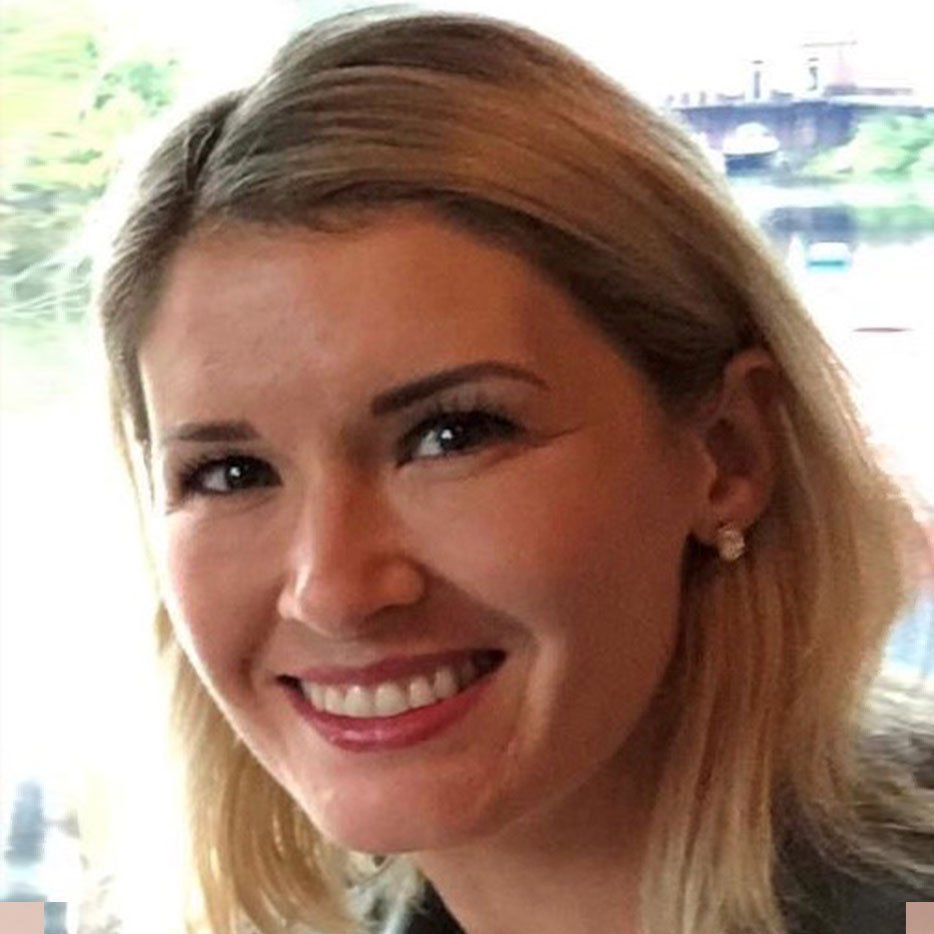 "I can honestly say trusting my skin to Cheryl has been one of the best decisions of my life. I've always struggled with acne and when I hit my late twenties it was out of control. I tried everything - dermatologists, accutane, antibiotics, every prescription and over the counter topical you could imagine. Products would work for a few months and my acne would come back with a vengeance. I stuck with the routine Cheryl gave me and almost immediately saw great results. Fast forward a year later and my skin is the best it's been ever! I rarely get an occasional pimple and it's usually gone so much quicker.

I actually consulted Cheryl again to see how I can repair my hyperpigmentation and texture from previous breakouts. She's the only person I trust to give me the proper tools to take care of my skin. Thank you Cheryl for giving me confidence and helping me achieve such great results!"
- Sarah, oily, combination & sensitive skin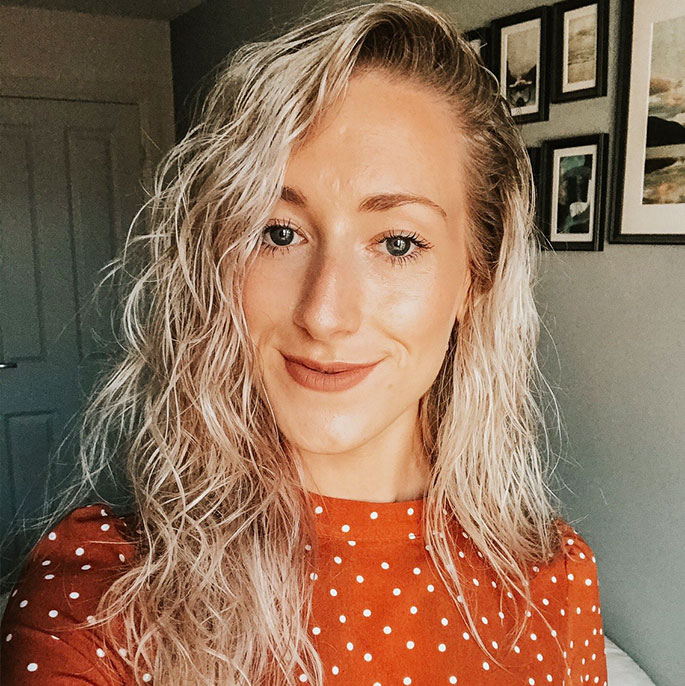 "I want to say a HUGE thank you for all the work you've done with me to help me clear my skin and creating the clear skin meal plans! So grateful for you and the time you put into creating these!! I was so lost before! I just had a horrible 2 months where my skin went mental and my confidence was on the floor so I immediately picked up your food plans and followed them religiously! It's taken two months but I now have almost clear skin."
- Kimali Brook, UK, dry & hypersensitive skin
"Cheryl is so great at communicating complex information in a way that makes it easy to understand! She looks at skin in a holistic way that I really appreciate. I was looking for someone in between, "Here have some harsh chemicals" and "Just slap some essential oils on it" and she is that perfect person. Everything she says makes sense and is backed up by science and experience. And she's super friendly and always willing to help out! Definitely recommend her course!

Also, I've been trying [the changes in module 3 for a few weeks] and I definitely see a difference!!"
- Kate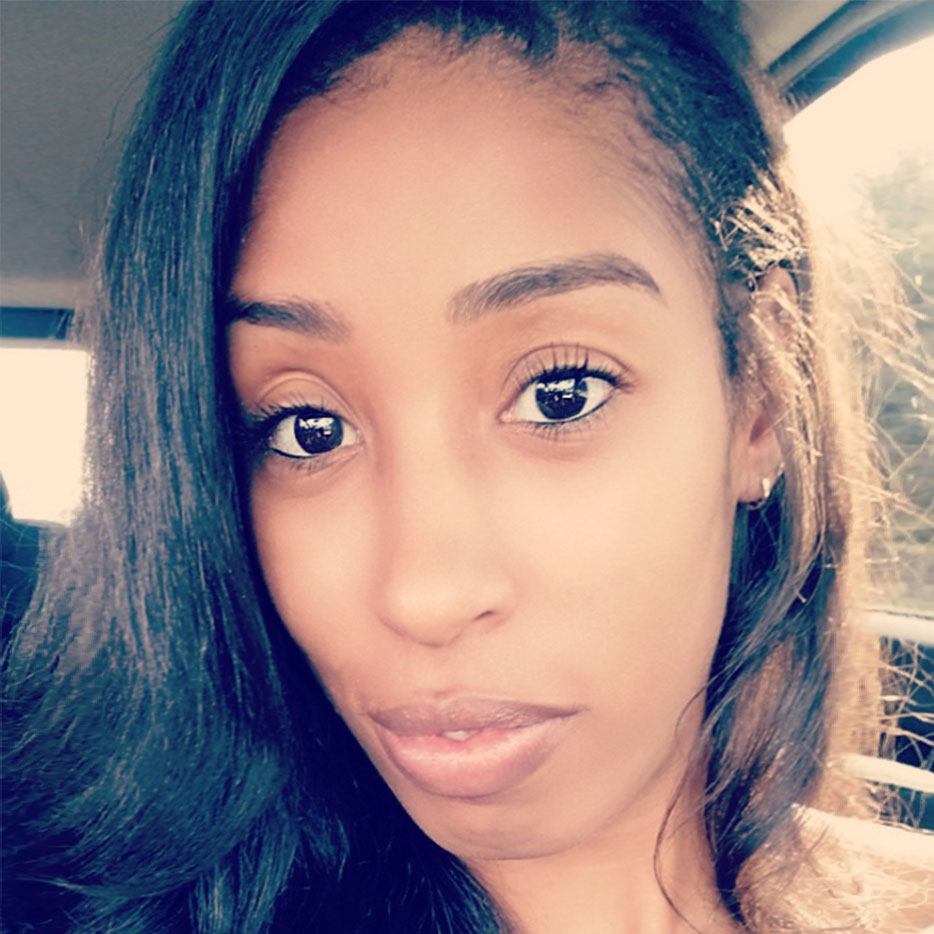 "Cheryl is an angel. Very happy I found her to help with my skin issues. There are so many products out there, where to start?

It really takes patience and commitment but I'm noticing a big difference with the pimples and acne. I rarely get them, my cheeks remain smooth which is fantastic. I'm looking out and being patient for changes in the dark spots on my cheeks, but I have noticed improvement.

I'm hopeful and excited for continued results..."
Brittany
"I really enjoyed watching the videos and found the content both useful and informative. The information is delivered clearly with a friendly and informal tone; the scientific evidence is compelling and your delivery made it easy to digest.
I found the information [in module 3] very enlightening; I hadn't heard this before which is exciting as it really does feel like premium information. I'm knowledgeable in this area, having tried lots of different approaches to improve my skin, so to hear something new is inspiring. I am excited to [make the changes in module 3] in the hope that it could resolve my skin issues... at last!"
- Hayley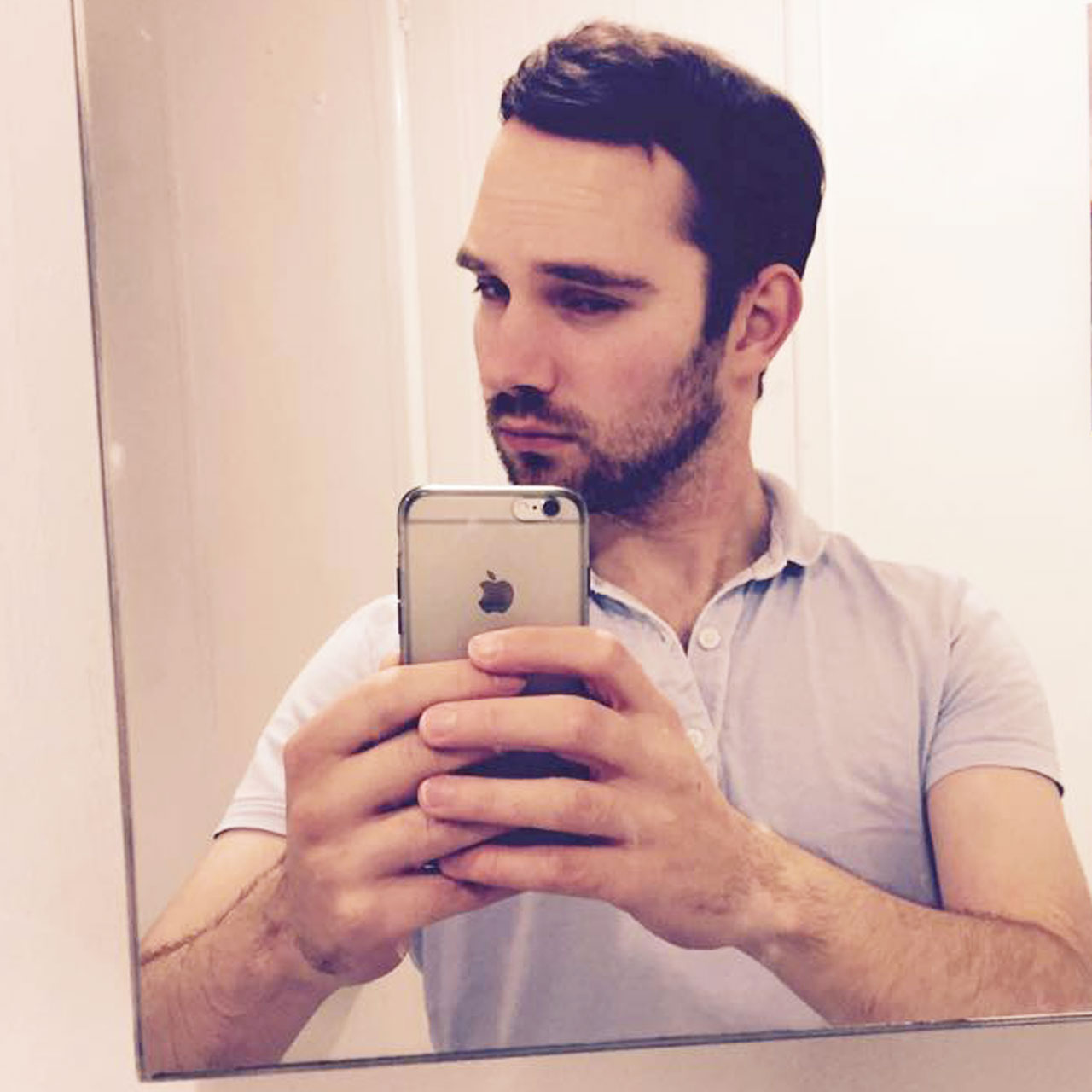 "Just wanted to say a big thank you!!! From using the products that you outlined, I have seen a massive improvement in my skin! I've been trying for 10 years to find the products. I can finally look in the mirror and be happy!!! Thank you again"
- Paul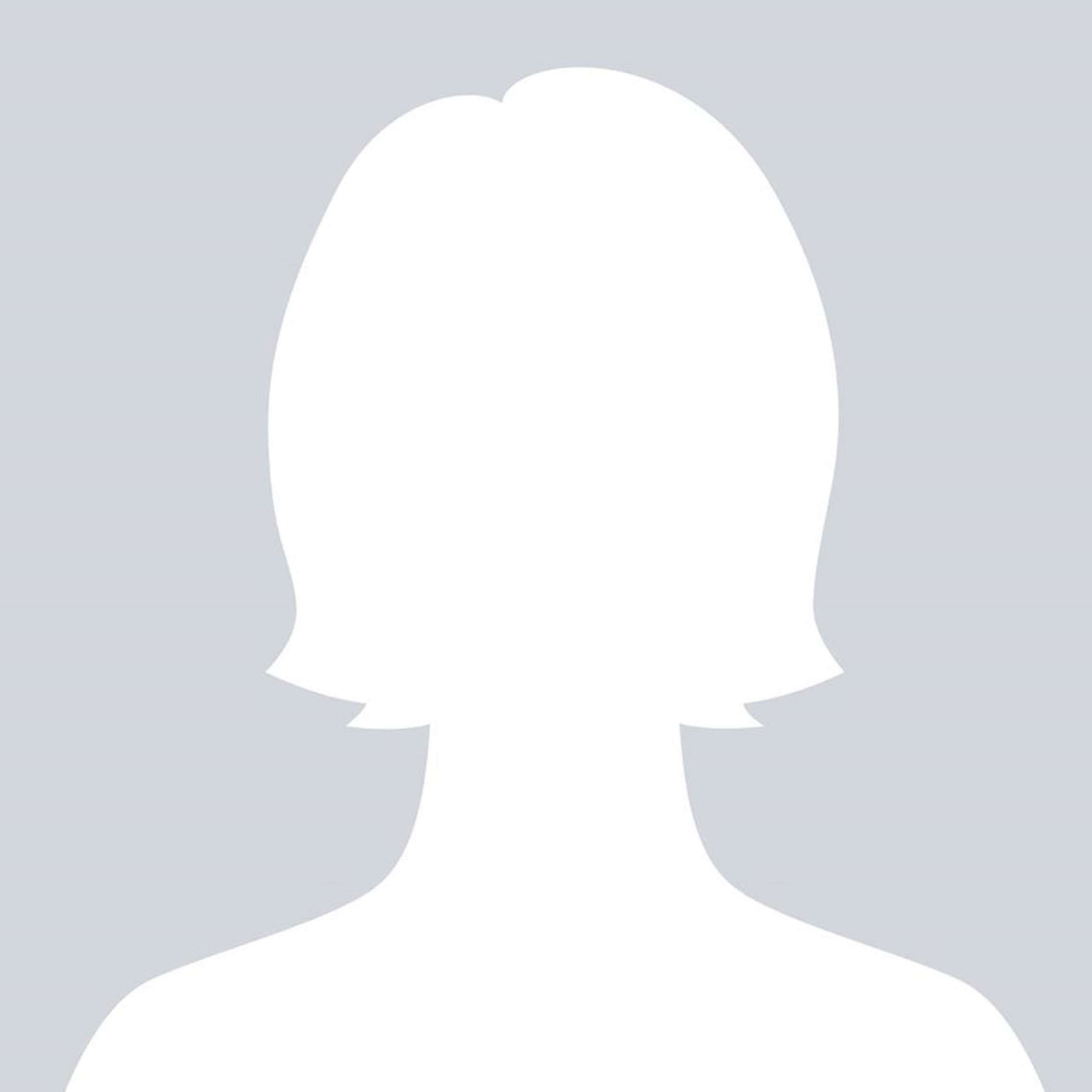 "My acnes have reduced tremendously. I cannot thank you enough. =)"
- Kadijah, Hormonal acne, oily/combination, dehydrated & sensitve skin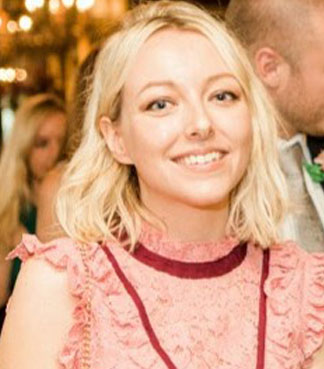 "This clever lady has improved my skin ten fold and it is now clear for the first time in years."
- Cara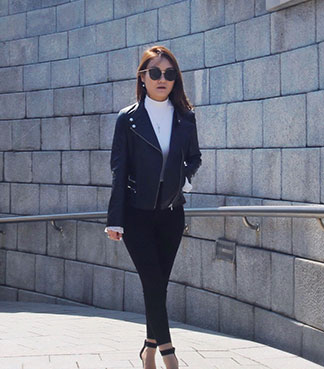 "I started following your Acne diet… since January 19. Wow, my skin got so much better. Thanks very much for that. I never knew diet is the solution. Now I would rate my acne severity on a scale of 3 only if I have to break the diet when I am travelling which I do often, and once a while I go out for dinner."
- Haze, Oily & dehydrated skin
10 Reasons To Join Acne Warrior
Instant access - take control of your acne today.
Decades worth of anti-acne research condensed into 1 easily digestible course.
Proven & science supported anti-acne strategies in a non-techy language which makes sense.
Finally understand what acne is, why it's happening to you, and how to get rid.
360 anti-acne approach - this is not just skincare or just diet or just lifestyle - Acne Warrior is holistic and complete, help treat multiple causes of your acne.
Save hundreds of pounds on anti-acne skincare which isn't working (or is actively making your skin worse).
Feel back in control of your skin.
Created by an Acne Warrior who's been there, gets it and has conquered acne.
No prescription needed - stay off acne meds and get to the root cause of your acne.
Step by step help and guidance no-matter where you are in the world.
This Course Is For You If;
You've tried a ridiculous amount of anti-acne skincare but nothings working.
You hate looking in the mirror and feel like acne's sucking away at your confidence.
You're confused about acne and just want some simple control back.
You're ready to make healthy, long-term changes which with time & commitment are science proven to help heal acne.
Who Acne Warrior Is Not For;
If you expect instant results - Acne Warrior is not for you. Long lasting clear skin change takes time.
If you want a quick fix/want to take a pill which will get rid of acne (highly likely to only be a temporary fix/cover up the root cause of your acne)
If you're not ready to commit to a new approach to skincare AND diet.
What You're Going To Get;
A clear & structured step by step healing journey showing you how science says you can get clear skin.
3 and a half hours worth of video lessons teaching you what acne is, why you have it and how to take back control of your skin.
A complete skincare routine guide with options for sensitive/oily/combination/dry skin types.
The Clear Skin Recipe Bible - with over 3 months worth of healthy AND yummy meals.
Acne journey tracker and downloadable clear skin meal planners.
An entire secret bonus module - which can help you make some fairly quick, positive, acne helping changes.
Instant and lifetime access to the entire Acne Warrior course and all of its future updates.
STOP Covering Up
The Root Cause of Your Acne.
Start Healing it Instead.


Frequently Asked Questions
When does the course start and finish?
The course starts now and never ends! It is a completely self-paced online course - you decide when you start and when you finish.
How long do I have access to the course?
How does lifetime access sound? After enrolling, you have unlimited access to this course for as long as you like - across any and all devices you own.
What if I am unhappy with the course?
We would never want you to be unhappy! If you are unsatisfied with your purchase, contact us in the first 30 days and we will give you a full refund.
I have hormonal acne - can Acne Warrior help me?
Yes. Most definitely yes. You'll find out the science of why in module 1.
Will Acne Warrior help me get rid of my acne overnight?
No - Acne Warrior will not help you get rid of your acne overnight. It is not scientifically possible to get rid of your acne overnight. Skin is a living organ and what you put onto it plus what you're feeding skin from the inside - impacts how skin grows and changes.

Fact; You need to change your skin's biology to help you get rid of acne.

Fact; biology change does not happen overnight. It takes time.

The time it will take for your acne to resolve is also going to depend on;

1) How you act on the step by step changes I am walking you through in this course
2) How severe your acne is
3) The root cause of your acne

What I can tell you is this; Over the 4 years I've been coaching clients on a 1-2-1 basis - I've seen the changes I talk you through in this course make fantastic clear skin change. I'm talking acne severity going down from a 9/10 to a 0/10. Pretty awesome eh.
This course would be a big investment for me. Is it really worth the price?
How many months or years have you spent trying to finally get control of your acne? Have you caused your skin harm in the process? Your fellow Acne Warriors who are already enrolled have told me what they're learning here is not information they've heard before.
This is powerful acne help that in the long-term is saving you time, emotion and money. Imagine how much time, emotion and money you could be wasting by not enrolling in Acne Warrior.
Psst; think of it this way, if you can give up something like a couple of Starbucks a week, you're even on the 5-month payment plan option plus in a hugely happier skin space.
Could I just find this information for free online?
You can find pretty much anything online these days - but does that mean it's validated, science-supported, credible information? No Sir-ee. This is one of the reasons why I created Acne Warrior. I want you to know the powerful ways science says you can help get rid of acne.
I have another question - how do I get in contact with you?
Can I use any device to complete my Acne Warrior lessons or do I need an App?
You can complete all Acne Warrior lessons on any device which has access to the internet. Meaning you have access to Acne Warrior at home/on the bus to work/on your tablet/phone. There's also an app you can download which makes the course super easy to use on the go - but you don't technically 'need' this.
Why I'm Here Teaching You This?
I want to give you access to powerful acne advice which is science proven. I've experienced first-hand how hard it can be to find this.
Pharmacists, doctors and even dermatologists are often only educated in what medication can help stop acne happening - instead - I want to provide you with steps to help heal the root cause of your acne without having to take acne meds/birth control.
I know how confidence crushing acne can be - I want you to have instant access to acne help you can start acting on right now - instead of waiting for a referral to a dermatologist.
Most of all I want you to feel supported and to understand there are many healthy ways you can help heal acne - changes which can help you get clear skin for good.